Finding Meaning
The search for meaning is a complex energy output of the Wellness Energy System that involves all of the previous energy forms. It involves these basic questions: Who am I? Why am I here? Where am I going? What do I want? What is real? What is true? Regardless of whether these questions are conscious or unconscious, all life activity, all energy expressions, are colored by them. The ongoing process of addressing these questions encourages a balanced life and provides us with a focal point toward which to direct our energy.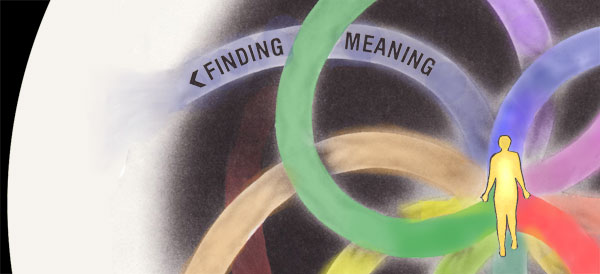 Introduction - Finding Meaning
Lost in the Parts
Assigning Meaning
The Unexamined Life
Life Purpose
Authentic Happiness - Pleasure, Meaning, and Eudaimonia
Our Inner Voice
Setting Goals
Achieving Goals
Living in the Now
Being Here Now
Life Is a Mystery
Facing Death
Death and Rebirth
Accepting Death
Dying with Dignity
Hospice
Life Lessons
---














Child/Family Wellness
Honoring the heart, soul, and spirit of our children, our families, and our future. After more than three decades of pioneering work in adult wellness, and giving birth to a daughter, Siena, in 1993, Meryn and John realized that the
more...


An Introduction
Meryn and John candidly share how they came to the field of child/family wellness from their background in adult wellness.
more...