Breathing
Breathing is synonymous with living. It is basic to our energy-transforming metabolism. In the Wellness Energy System, breathing provides the first energy input. The oxygen that breathing provides is needed for the production of the high-energy chemical bonds that result when it combines with our blood sugar within every cell of our body. Our breathing invokes more subtle energies not presently recognized by most of Western science - the prana, or life force.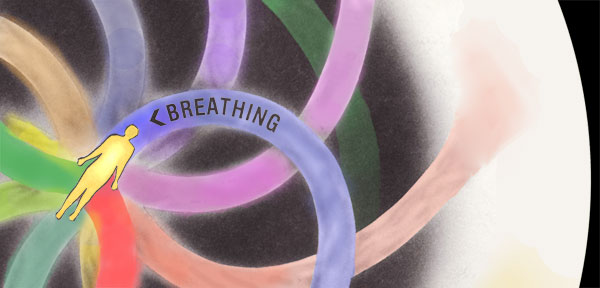 Introduction - Breathing
The Process of Breathing
The Importance of Breathing
Breathing Freely
Posture and Breathing
Prana
Workplace Ergonomics
Experiencing a Full Breath
Natural Breathing
Breathing and Emotions
Breathing for Balance
Releasing Tension with Breath
A Relaxation Exercise
Breathing and Stress
Simple Breathing Exercises
Breath and Healing
Breathing For Healing
Breathing and Awareness
Three Breaths
Breathing Pure Air
Air Pollution and Health
Responsible Forestry
Inner Peace
---














Personal Wellness
Wellness is about you. It is about learning to love your whole self. It is about assuming charge of your life, living in process, and channeling life
more...


Helping Professionals
This area consists of text from Wellness for Helping Professionals, by John W. Travis, MD, and Meryn Callander.
more...