Self-Responsibility & Love
Self-responsibility, with love and compassion, is the first form of energy in the Wellness Energy System. This creates an environment, or context, within which all other energy expressions can be better considered.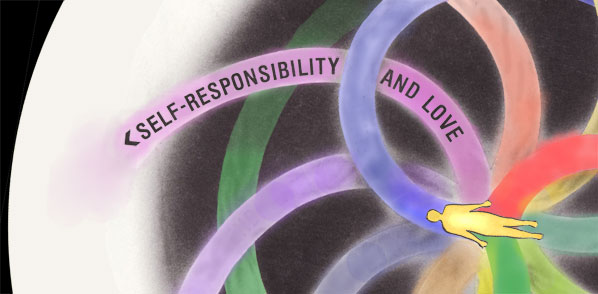 Self-responsibility and love flow from the appreciation that we are not separate and individual entities, nor are we made up of separate parts. Rather, we are united in a single energy system along with everything else in creation.
Introduction - Self-Responsibility and Love
Self-Responsibility and Love Defined
A Question of Balance
The Problems with Illness Care
Cost of Health Care System
Responsibility for Health
Going into Medicine
Responsibility for Medical Treatment
Safety
Pills to End Pain?
Self-Responsibility = Self-Trust
Body Awareness
Talking with a Body Part or Symptom
Responsibility versus Blame
Dis-ease as Feedback
Love and Compassion
Being In Need - Out of Balance
Wellness Amidst Illness
Forgiving Self and Others
Guilt vs. Regret
Love and Wellness
Self-Acceptance
National "Love Your Body Day"
Think Globally, Act Locally
Living Lightly
---